Career Overview
2nd Assistant Directors assist the Assistant Director to ensure a set is running smoothly. This may include tracking progress on schedule, creating call sheets, working with Extras, and generally maintaining set order and safety.
Alternate Titles
2nd AD, Second AD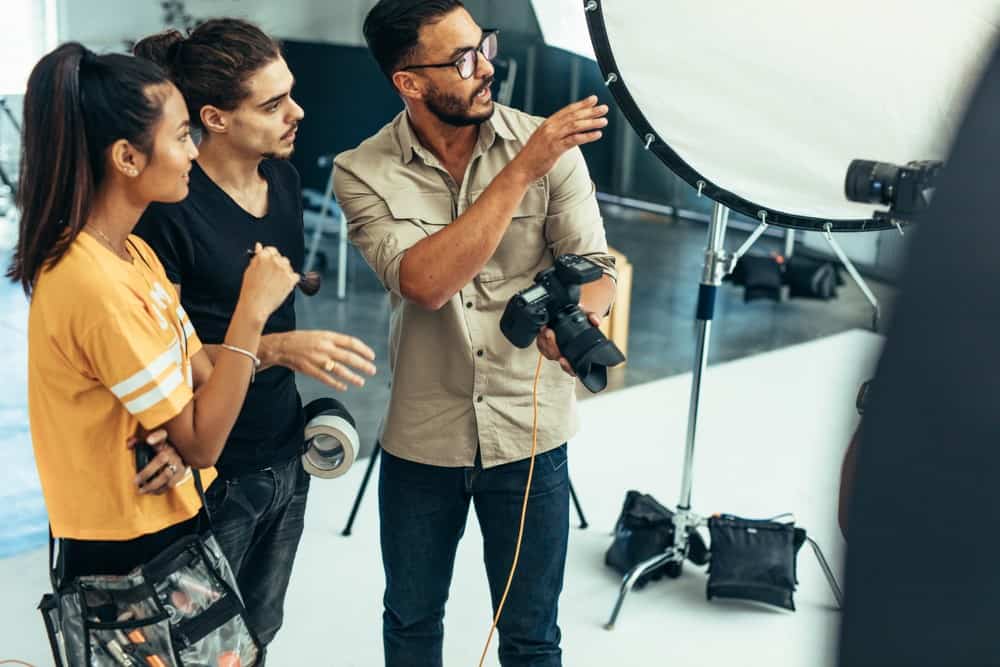 How To Become a 2nd Assistant Director
Career Description
Working as a 2nd Assistant Director, no two days are alike. Sometimes a 2nd Assistant Director may stay with a project from pre-production through the end of the shoot, other times a 2nd Assistant may come on for just one day when the set has a large amount of Extras, or other needs for backup support that a 2nd AD can provide.
Suzee Dunn has recently worked her way up from Set Production Assistant to regular 2nd Assistant Director work. Dunn says, more often than not, she is hired on for a single day. Dunn makes sure to always request any and all materials she can get her hands on in advance of the shoot.
"I read the script a few times, go over the shot list a few times, look at the schedule on the call sheet, and familiarize myself with the material as much as possible. I also like to look over the names of people on the call sheet, to have another device to remember people's names. Knowing names gets you very far as a Second," Dunn says.
Dunn stresses the importance of getting to set early and meeting with your 1st Assistant Director and getting the lay of the land. "Check in with the AD and get the plan," says Dunn.
Then Dunn says, "Meet the production team, security, and the Locations Manager. Make sure you are aware of any quirks about the space. Are rooms off-limits? Can you not eat food in certain places? Where are the bathrooms? I also like to ask the AD what specific things I can do to make their life easier, and to help keep them healthy (i.e. drinking water)."
Dunn says she most typically works with talent, ensuring they are through makeup and wardrobe on time, getting fed, and completing all required paperwork (along with feeling well cared for.) Dunn deeply stresses having a kit on hand (extra copies of scripts, call sheets, pens, markers, and painter's tape to help wardrobe mark costumes for changes, days, and different looks).
Anything you can do to help keep things running smoothly. "And write it all down, write everything down," she stresses.
Salary
The average annual salary for a 2nd Assistant Director is approximately $84,900. The salary range for 2nd Assistant Directors runs from $64,000 to $121,000.
Again, life as a 2nd Assistant Director may not be consistent. Dunn is of the opinion that 2nd ADs should take work where they can get it.
"Currently I am freelancing and working about 10-12, sometimes 15 days. The minimum you should be making is $200.00 a day — at the very minimum. I tend to supplement days of 2nding with firsting and PAing when I need the work. Don't be too proud. Get the days, make the money," she advises.
Career Outlook
First and Second Assistant Directors are often some of the first people to arrive and the last people to leave a set (along with Directors and Producers). Long days are to be expected, along with plenty of stress. When you are part of the nuts and bolts of keeping things rolling, a lot can be thrown your way. Dunn stresses the importance of self-care.
"I try to do yoga at the end of the night," says Dunn. "This doesn't always happen, but I try my best to squeeze yoga in as often as possible. This job is tough. The First AD has the lowest life expectancy on average for people working on sets. The Second isn't much better. We need to care for ourselves." We also love this simple piece of advice from Dunn: "Please drink water."
Career Path
Dunn has quickly advanced from Production Assistant to 2nd Assistant Director, but not without a lot of hard work.
"You need to take little jobs on big sets, and big jobs on little sets. You need to work hard. You need to take every job you can and learn new things each time. Start meeting ADs, tell them you are interested in seconding and firsting. Ask them if you can help with anything. If you meet cool ones you click with ask them to show you things. Once you feel confident, start asking to 2nd for them."
Dunn has personal goals beyond 2nd ADing but loves the on set experience she gets as a 2nd, where she learns an incredible amount about the inner workings of production. "Personally I find all of this useful because I want to produce and create television," she says.
"I find with firsting and seconding I am truly learning about all parts of set. These positions truly "ride the line," as they say, between production and creativity. It gives me perspective on how sets operate, what people need, and why things take the time they do."
Employment as a 2nd Assistant Director can be sporadic. It also takes a flexible schedule to be able to hop on single-day swing shifts. Dunn says, "Generally if I can get myself 12-15 days on set a month I can pay my bills, gain experience, and sometimes save some money. So I try to shoot for that."
Work on set is always stimulating as 2nd Assistant Director. Dunn reminds us the 2nd AD will interact with just about everyone. "I work with a lot of the crew — the most with the AD (Assistant Director), PC/PM (Production Coordinator/Production Manager), the Line Producer, and then the heads of departments (especially "HMU," Hair/Makeup and Wardrobe)."
Dunn also cautions 2nd Assistant Director work is also independent contractor work, so be careful to set aside money for taxes, and find a good Accountant.
>Seek out valuable social media production groups and follow them.
Apply for every job you can.
Build your resume by helping people make things for free.
Meet people who do what you want to do and ask for help.
Experience & Skills
Dunn emphasizes organizational skills are key for survival as a Second Assistant Director: "I think AD's brains work a certain way. You have to be organized, think ahead. See every problem that could possibly arise, and get ahead of it."
Teamwork is also essential: "You have to be able to communicate with one another," Dunn says. "You need to think with the analytical production side of your brain, and the creative side with the Director. You have to be able to see where the two can meet, make a plan to get there, and then implement it. You can't get flustered. You have to stay calm and steady."
As with many other set jobs, stress comes with the territory, with the continued advice that sometimes you have to just let things roll off your back. Above all else, Dunn says, "You need to be a problem solver. The team should plan as much as they can, but be prepared to have to make it all up anyway. Be someone who can make a plan up out of nowhere."
Education & Training
While many film schools will undeniably give you a leg up with set experience, Dunn says Second Assistant Directing is all about getting your hands dirty and getting on every set you can: "Get yourself on as many productions as you can. Honestly, you are going to learn the more you do it. Learn from people, shadow anyone you can."
Additional Resources
The Director's Guild of America is also the union for First Assistant Directors and Second Assistant Directors. It is an excellent resource for checking the latest salary minimums for production. At least six hundred working days are needed to join the union.
Dunn recommends the following social media groups when seeking Second AD work: Production Resource Group, Paid Entertainment Jobs and Castings, Freelance Film Crew- Los Angeles, Production 911, FilmindustryLA, I need a SET PA/AD, Women in the Industry, Los Angeles Women's Film Collective, Film Production & Jobs, I Need a PRODUCTION ASSISTANT!, Paid Film/TV Production Jobs: Los Angeles, Paying Job Posts, Production Freelancers – Producers, Coordinators, PAs.
Sources
Suzee Dunn
Suzee Dunn is a working AD, Second AD, and PA working on sets all over Los Angeles, California and surrounding areas. In the past ten years, she has been developing her skills within the entertainment industry, starting in New York in 2008 where she focused on the theater, interning with various theater companies and festivals.
Dunn made her way to Los Angeles in 2013 and began focusing on television. In these last six years she has worked her way up on sets, PAing, ADing, 2nding, producing, and writing on every set she can get on. Dunn has worked in film, television, reality tv, commercials, short films, and music videos.
Recently Dunn has been working with STX on their press junket campaigns including ADing both The Happytime Murders and Second Act. She has worked with Nickelodeon, 2nd ADing Cousins for Life, on a branding campaign for How to Train Your Dragon 3 and Wonder Park, as well as working for Jojo Siwa's brand. She has also worked with Freeform and The Grinch (new) for an ad campaign.
Dunn works well in the set environment. She works hard, is very organized, and just really loves doing this stuff. Her work has been featured in Girl Copy, Who Ha Ha, and Voyage LA. Dunn is the co-host of the Act Like a Girl podcast and has also guested on the podcasts Podcasts Full of Women and The Bechdel Cast.